About Bee Pollen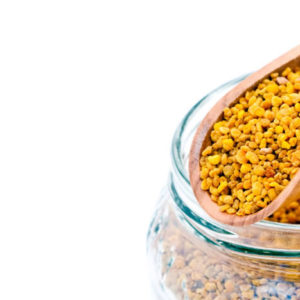 ---
Wheat and Gluten FREE
Nature's Superfood
Collected by honeybees from our remote, clean & green forests, Highland Honey's bee pollen is bursting with natural goodness for GLOWING HEALTH & VITALITY.
Bee pollen is the MOST NUTRITIONALLY POTENT of all bee products, it is actually the secret behind the amazing endurance of the tiny honey bee. And it's not just bees who can enjoy this energy. As a genuine SUPERFOOD, bee pollen is the choice supplement of many of the world's top athletes.
LOW IN FAT & CALORIES, yet HIGH IN PROTEIN & ENERGY, bee pollen facilitates EXCELLENT DIGESTION to utilise the food we eat more effectively for RADIANT HEALTH & INCREASED STAMINA. Bee pollen offers ALL ESSENTIAL AMINO ACIDS + VITAMINS, MINERALS, PROTEINS, ENZYMES, LECITHIN & FLAVONOIDS, along with a host of additional life-giving ORGANIC elements. An ideal and PERFECT FOOD FOR COELIACS & VEGETARIANS, bee pollen is an ideal rare plant source of essential VITAMIN B12. It also contains naturally occurring Human Growth Hormone, widely hailed as the fountain of youth
by many renowned health experts.
Highland Honey's bee pollen is 100% GUARANTEED to be additive free and is naturally air dried at low temperatures to retain its MAXIMUM POTENTIAL. Unlike much substandard and inferior imported material, our pollen is always No. 1 grade Australian product and is a consistent HIGH PROTEIN source (25-30%), making it the ideal supplement for bodybuilders.
HOW DO I TAKE BEE POLLEN?
Scientifically proven MAXIMUM POTENTIAL is easily achieved via Sublingual ABSORPTION:
Moisten your mouth with water prior to ingestion.
Place half a teaspoon of pollen under your tongue
*Hold it there until it dissolves, about 2 – 3 minutes then swallow.
HOW MUCH DO I TAKE?
POLLEN IS A POWERFUL FOOD
Start slowly and build up your intake. Take one half teaspoon per day for the first week. Increase to two half teaspoons per day (morning and night) for two weeks, then cut back to a single half teaspoon per day.
NB: Bees utilise nectar to neutralise the allergic principle in flower pollen. Whilst it is in fact
possible, allergy to bee pollen is extremely rare. However, it is always wise to exercise caution and check your initial response. When first trying bee pollen, place several granules under the tongue for two minutes to test for allergy.

THE RESULTS WILL SHOW FROM YOUR HEALTHY GLOW
Brighter eyes
Stronger nails
Radiant complexion
Shining healthy hair
Smoother skin
Nothing compares with…… Highland Honey's Bee Pollen
Typical Laboratory analysis of Bee-collected Pollen contents:
Amino Acids:
Alanine Arginine Aspartic Acid Cystine Glutamic Acid Histidine Hydroxyproline Isoleucine Leucine Lysine Methionine Phenylalanine Proline Serine Threonine Tryptophan Tyrosine Valine
Enzymes
Amylase
Catalase
Cozymase
Cytochrome Systems Diastase
Disphorase
Lactic Dehydrogenase Pectase
Pepsin
Phosphatase Saccharase
Succinic Dehydrogenase Trypsin
33 Hydrolases
24 Oxidoreductases
21 Transferases
11 Lyases
5 Isomerases
Vitamins
Panthothenic Acid Biotin
B12 (Cyanacobalanin) Folic Acid Provitamin A
Minerals
Boron Calcium Chlorine Copper Iodine
Iron Magnesium Manganese Molybdenum Phosphorus Potassium Silicon Sodium Sulphur Titanium Zinc
Phenolic Acids Terpenes Triglycerides Versine Xanthine Xanthophylls Zeoxanthin
Hormones and other Organic Elements:
Alpha aminobutyric acid Amines
Auxins
Brassins
Crocetin Diglycerides Flavonoids
Fructose Gibberellins Glucose Guanine Hexadecanol Hypoxanthine Kinins
Vitamin Vitamin Vitamin Vitamin Choline Inositol
Rutin
B1 Thiamine B2 Riboflavin B3 Niacin
B6 Group
Lecithin Lycopene Monoglycerides Nucleic Acids Nuclein Nucleosides Pentosans
Order bee pollen today.