Bees in the Herb Garden Dip or Dressing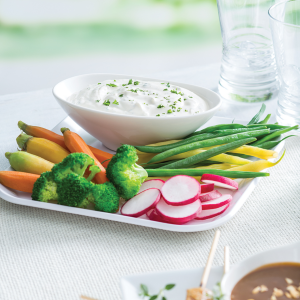 ---
YIELD: Makes 20 (2 T) servings
500ml sour cream
1⁄2 cup honey
2 tablespoons orange juice
2 tablespoons Dijon mustard
2 teaspoons cream-style horseradish
2 teaspoons rosemary, crushed
1 teaspoon chervil, crushed
1 teaspoon basil, crushed
3⁄4 teaspoon salt
1⁄2 teaspoon white pepper
1⁄4 teaspoon garlic powder
Combine all ingredients and mix well. Refrigerate, covered for several hours to blend the flavours. Stir before using.
Serving Suggestions:
Use as a dip for chips, prawns, ham cubes, vegetable dippers, olives and pineapple pieces. Use as a salad dressing for green and fruit salad.
Cooking Tip: Honey is a humectant, which means it attracts and retains moisture. Honey is a perfect ingredient to add to baked goods because it helps them stay fresh and moist longer.
Tip 2: If using honey by itself as a barbeque baste, wait until just before the meat is ready to eat before brushing on the honey. This way, the honey will not caramelize and burn.
Please Note: Honey should not be fed to infants under one year of age. Recipes are courtesy of the National Honey Board et al. Visit www.honey.com
Raw honey will work just fine in this recipe with its strong herb aromas. If you don't have those herbs at hand then substituting with one of our Specialty or Decadent Honeys.