Honey Bee Hive For Sale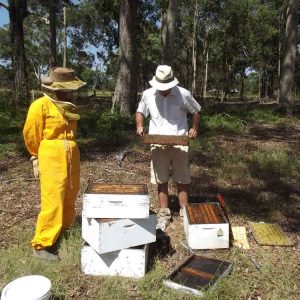 ---
Highland Honey is now selling beehive boxes
We build our boxes to enable the best opportunity for bees. We have considered vermin protection, climate control and durability in the construction of our boxes.
We have hives ready to go and beautiful bee colonies to split.
If you are interested to buy a beehive contact
Roger 'The Honey Man' on 0412 753 318.
About Highland Honey Beehives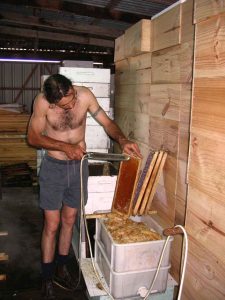 In the past, all my gear (hive boxes, bases and lids) have been made from softwood, but even though I paint them with 6 coats of paint, the softwood stuff just doesn't last, so I made the decision to rebuild my hives in hardwood.
Acquiring the right specifications in hardwood can be a challenge. None of the timber merchants stock material 200mm wide by 20mm thick as it warps. So I am using tongue and groove Cypress flooring for my hives. I buy my materials from Bunnings is beautiful timber, but I'm highly allergic to the oil in it, so have to handle it with gauntlets.
I use two different size boxes, Full Depth and 3/4 size (WSPs) and can make Full Depth boxes from 3 pieces of 80mm wide boards, and can make WSPs from 2 widths of 98mm timber.
I am also a guy who all the time wants to make a better mouse trap, so my all bases and lids are insulated. This helps the bees keep the hive warm in cold weather and cooler in the hot times, then
more bees can forage than would otherwise be the case.
I have 30 hardwood WSP boxes on the hives and 18 hardwood Full Depth Boxes ready to go, 12 nukes (4 x 4 frame, 4 x 5 frame and 4 x 6 frame) almost finished, and 20 insulated bases in progress.
Something that has been a concern since becoming a beekeeper, is with each hive having a full depth brood box and 2 WSP honey boxes, how can I replace a damaged of old full depth frame from the brood box when I don't have a box that size to put the frame in?
So, I have decided to replace one of my WSP honey boxes with a Full Depth box.
Consequently, I will use the new Full Depth boxes for the honey boxes and make a new set of full depth boxes for brood boxes, but with entrances cut into the box rather than having to make risers which are fiddly and would normally be fitted to the new bases.
So I am currenly in the middle of making another 18 Full Depth boxes to use as brood boxes.